Fearless Find of the Day: Patience Reviews!
Czar tagged me on her wall post regarding the YouTube web series Leaving Bliss (2010) shortly before last weekend's Tioman Island getaway. Hungry for new stuff to watch on the Net, I checked out its pilot episode and was immediately hooked. 
Then this video you're seeing right now popped out of nowhere in the sidebar. Patience, the main character of Leaving Bliss, reviews a lot of stuff with the likes of Skittles and Valentine's Day candy hearts. The surprising thing about the web series and the reviews is that they were produced way back in 2010 - four years ago. I have yet to watch the other episodes, but so far it's one of those underrated, entertaining videos you don't really know about until you dig deep into the shore. Thank you Czar for this oldie yet goodie! 
Now for life's ramblings…
Things Running Through My Head Lately
Started watching Sherlock yesterday, and it didn't disappoint me. Worth the hype. Sherlock's the man, and so is Watson. I have unfinished business with these following shows and I swear I shall watch them over the break: HIMYM, Skins, New Girl, 30 Rock, Suits. If you could recommend to me any shows to watch, I'd truly appreciate it! 
Note to the Detroit Red Wings, Anaheim Ducks, and New York Rangers: you all have one job and that is to knock out the Bruins, Flyers, and Stars out of the playoffs.
And to my Penguins, please win the Stanley Cup! Don't you ever pull a Maple Leafs. Nobody likes to see a depressed fanbase like these fellas down here:
I will throw a party for a hundred people if the Charlotte Bobcats win the NBA championship in June. 

I'll blog about Tioman soon. 

Pacman wins. Faith in humanity restored. 

Guess who just won the Art Ross (scoring champion) by a 17-point margin? You can all walk home now, haters.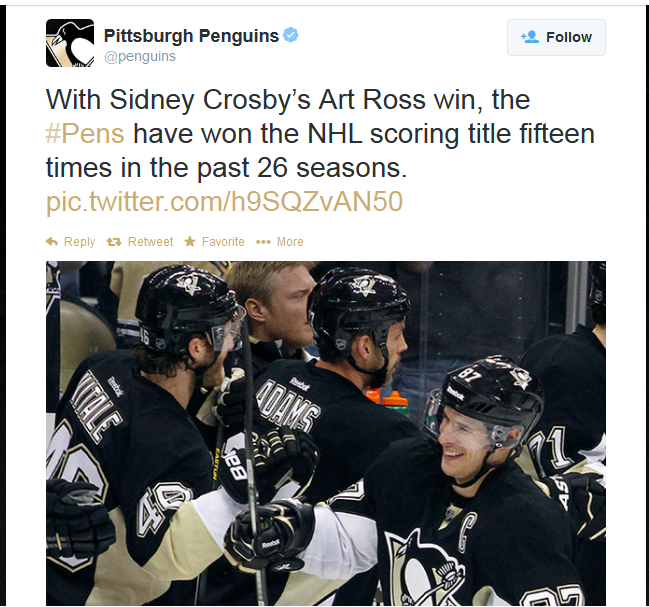 Status for the EB Race: still pending!
Spending Good Friday and Black Saturday at Johor Bahru once again! 
I'll be saying goodbye to my bum life beginning Monday as I begin my internship for this dance and performing arts school in Bukit Merah. The man I spoke with when I inquired after lunch today even offered me free salsa classes after my work. Ooooh yeaaaah!  

I'll be sharing some of the stuff we do in Comm Arts one of these days including a prized possession - a short film! 
Okay I shall sign off now and revise my literary pieces! 
April 16 at 5:56 PM